Hammerhead 1000m Bronze
Refreshing the classic dive watches of the 70s with the latest in production and material technology. Explore the newest range of designs now. Timepieces are in production now and due for delivery by July.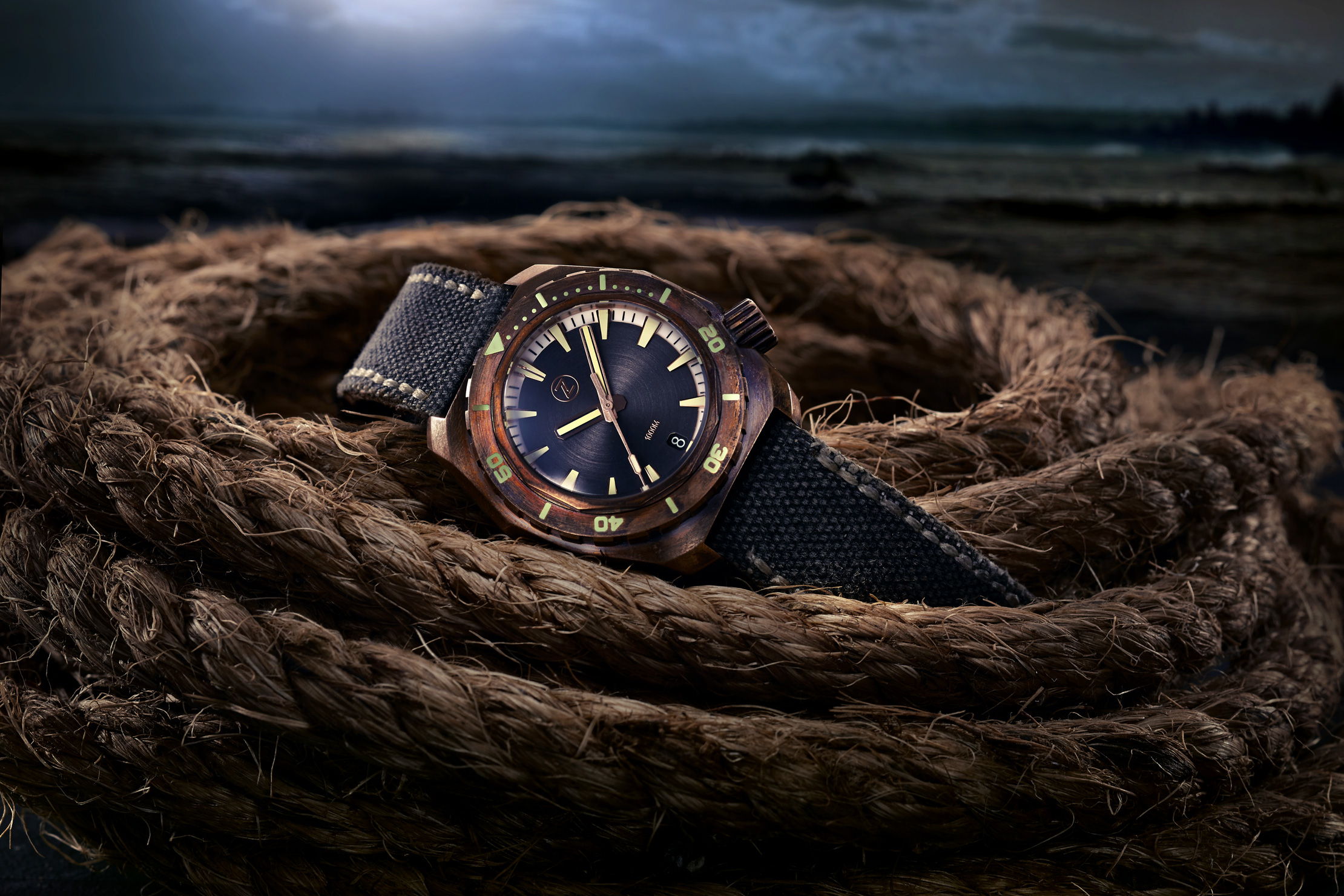 Bronze starts out a shiny rose gold color and will patina to a matte brown over time.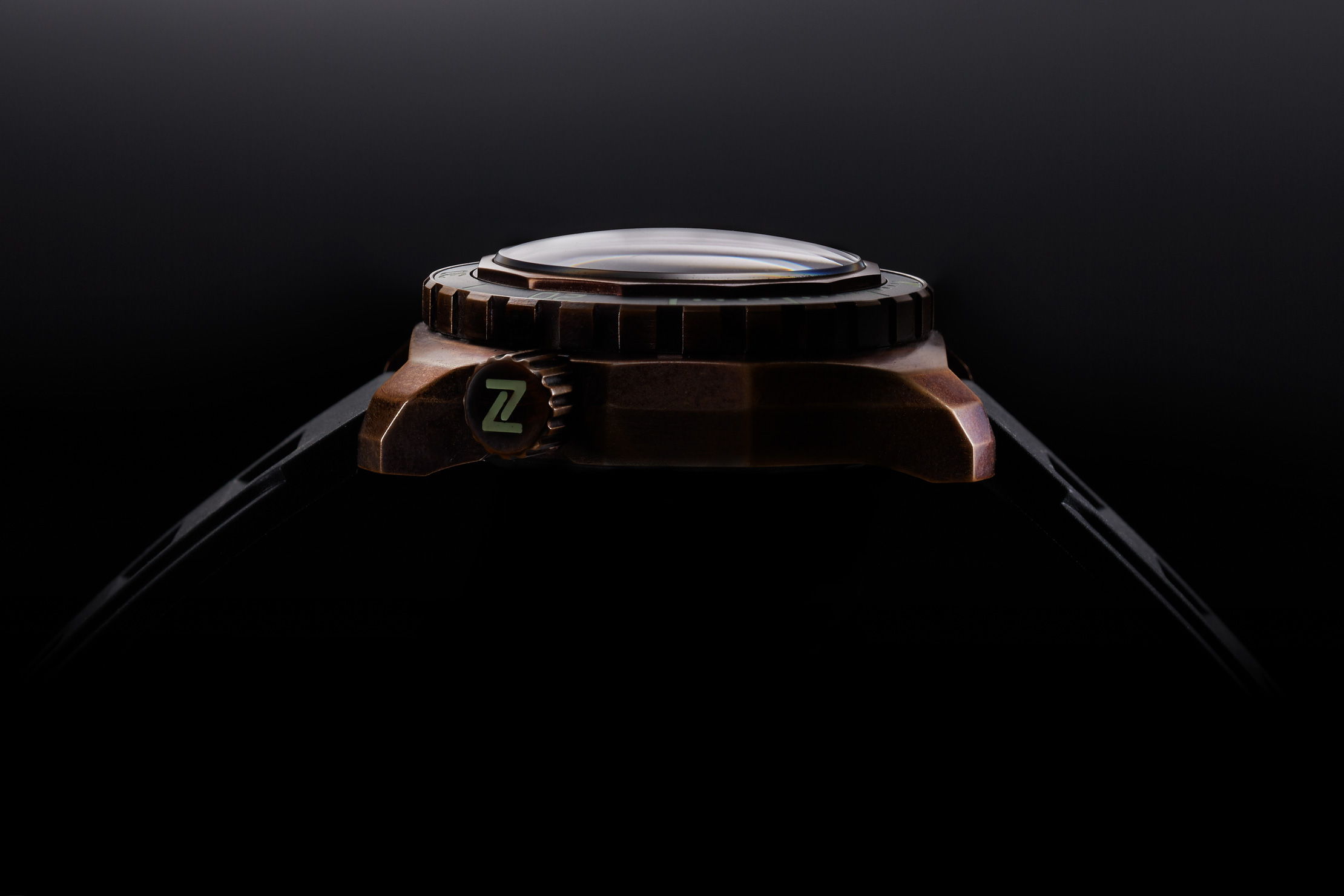 Double Domed Sapphire glass and a short lug to lug length for extreme comfort.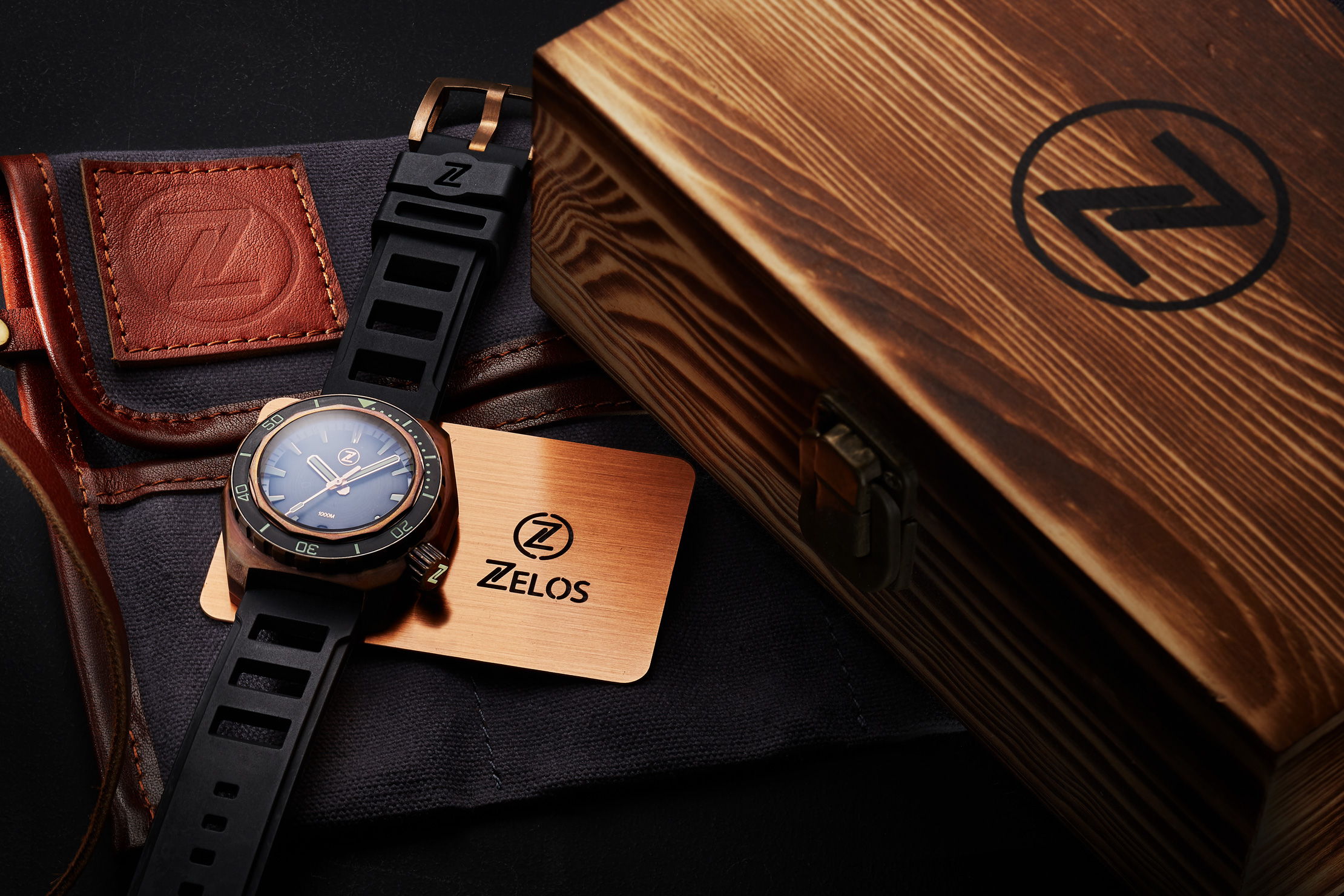 Comes packaged in a wooden box and canvas travel roll. Each watch will come with a total of 3 straps : 1 rubber strap, 1 canvas strap and one leather strap.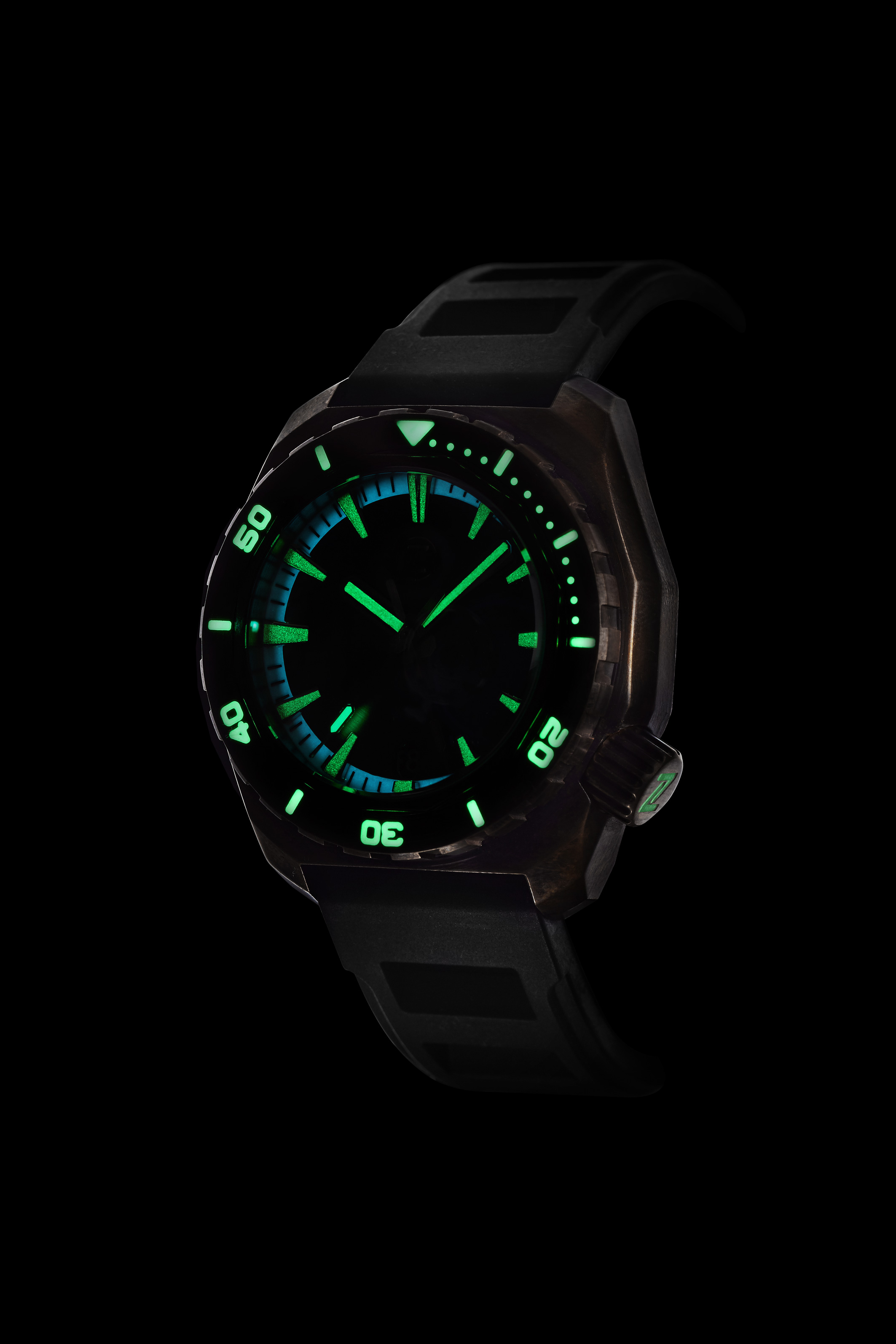 The Hammerhead
The 1970s. Demand for dive watches swelled along with the rise of sport diving. A dive watch was essential piece of equipment to measure elapsed times before the advent of dive computers. 
Our Design Philosophy
The Hammerhead hearkens to the glory days of dive watches. The distinctive cushion shaped case, once common among many dive watches, has been given an angular facelift. A high double domed crystal tops off the vintage influences for the Hammerhead. 
Marine Bronze, a 'living' metal which patinas according to your use. This makes each watch unique to you.
Ceramics, or Zirconium Oxide to be specific, was chosen for the bezel insert due to its legendary hardness of ~1500 Vickers.
Dial Details
The dial of the Hammerhead was designed to be both functional yet unique. It is made from 2 layers, with the outer minute layer fully coated in BGW9 lume. The top layer is circular brushed for a lovely texture which is emphasized in sunlight. Hour markers have been custom designed to be as tall as possible to increase the depth and visual interest of the dial.
Meteorite Dials
Meteorite is a metal approximately 4.5 billion years old with a striking design unlike any other material. Each and every meteorite dial has a different pattern, otherwise known as the Widmanstatten Patterns. This is formed over millions of years of slow cooling, and cannot be reproduced synthetically. We use material from the Muonionalusta meteorite which is found in Sweden and landed over a million years ago.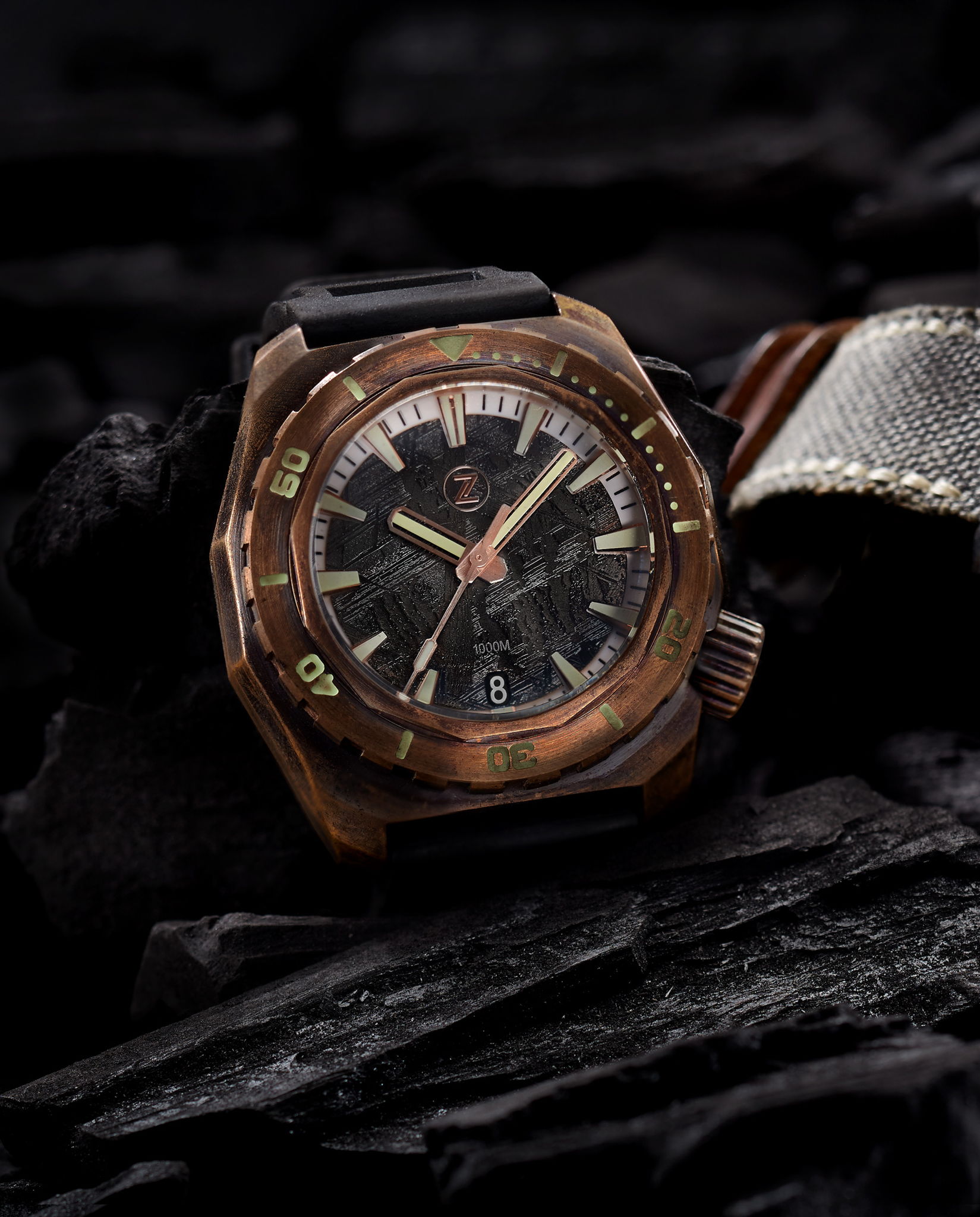 Specifications
CUSN8 Marine Bronze or 316L SS 
Ceramic (1500 Vickers) or Full Bronze bezel Insert
High Double domed Sapphire with inner AR coating
44mm Case excluding crown. 22mm Lug Width
49mm Lug to Lug length
17mm Height, 14.5mm excluding crystal
1000m Water Resistant
Seiko NH35 Automatic movement
120 Click Unidirectional bezel
SS Models: Bracelet with Quick adjust Divers Extension
C3 Lumed Screw Down Crown
C3 and BGW9 Lumed Bezel, Dial and Hands